Felt
Felt is hot right now and so is chipboard, so why not use the two together?
The theme of this page was the bear, and the fuzzy look of the felt on the chipboard is perfect.
I used Aleene's Tacky Glue to adhere the felt to the chipboard. I used a small, detail scissors to cut the felt away from the chipboard. The inside of the chipboard letters and shapes were more difficult, but with a little bit of trimming with a craft knife, no problem.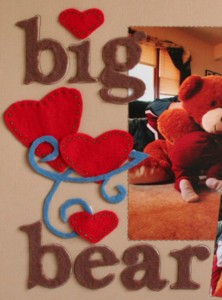 The chipboard letters are Basic Grey.
The chipboard flourish is Maya Road.
The hearts were hand cut.